NYPD Stop, Question, and Frisk Worksheet (UF-250); My attempt at getting the latest version as 'just a researcher'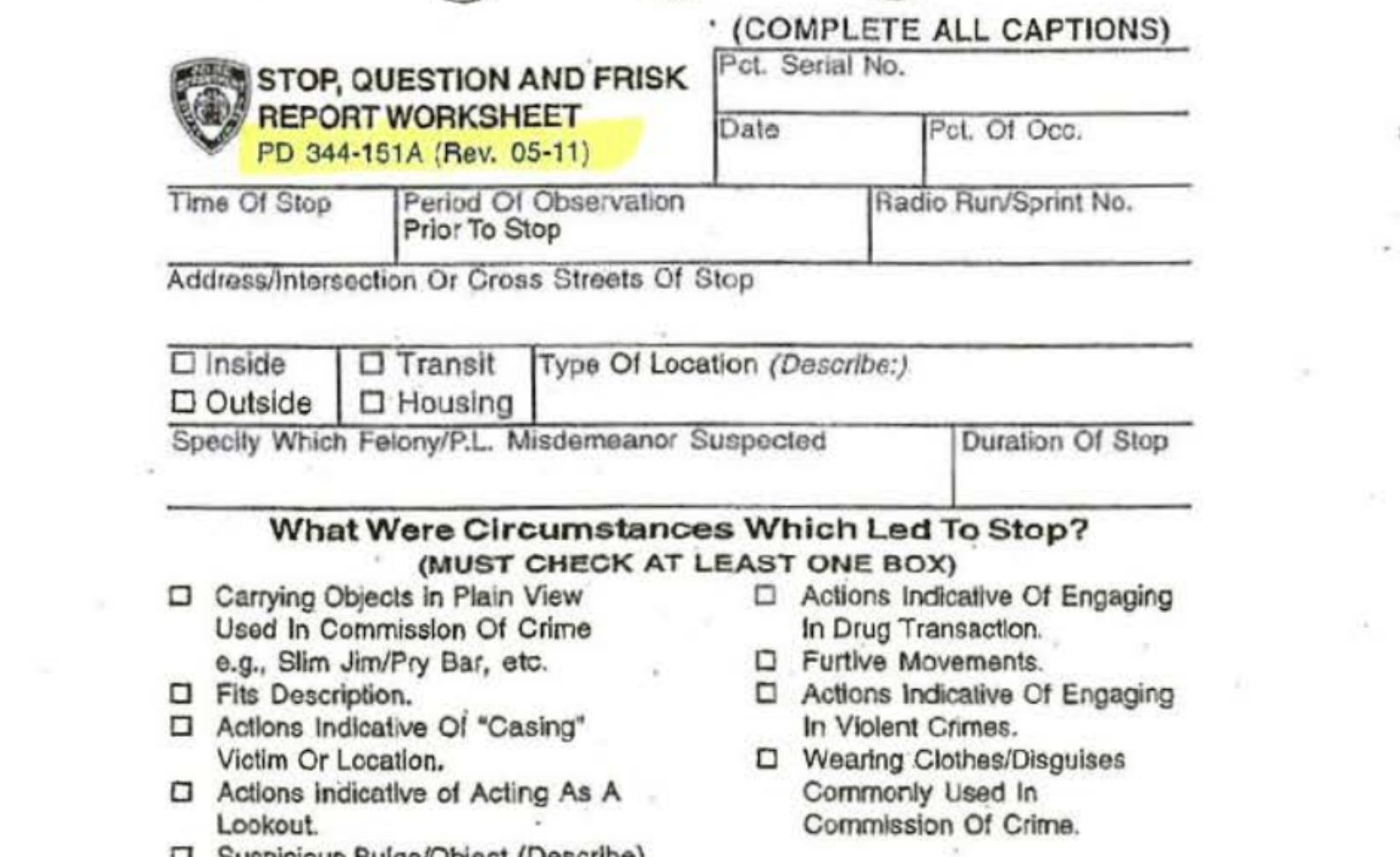 I'm writing a book about using SQL for data journalism, and one of the sections will be about the NYPD's Stop and Frisk data, which has a long history as both data and policy. In my book, I frequently assert that researching the data is much more important than any programming and database skill. And this includes finding the actual forms – paper or electronic – used for collecting the data.
For a stop-and-frisk encounter by the NYPD, police officers have to fill out a Stop, Question, and Frisk Worksheet (PD 344-151A), also known as a Unified Form 250, aka UF-250. The 2011 version has two sides.
This is the first: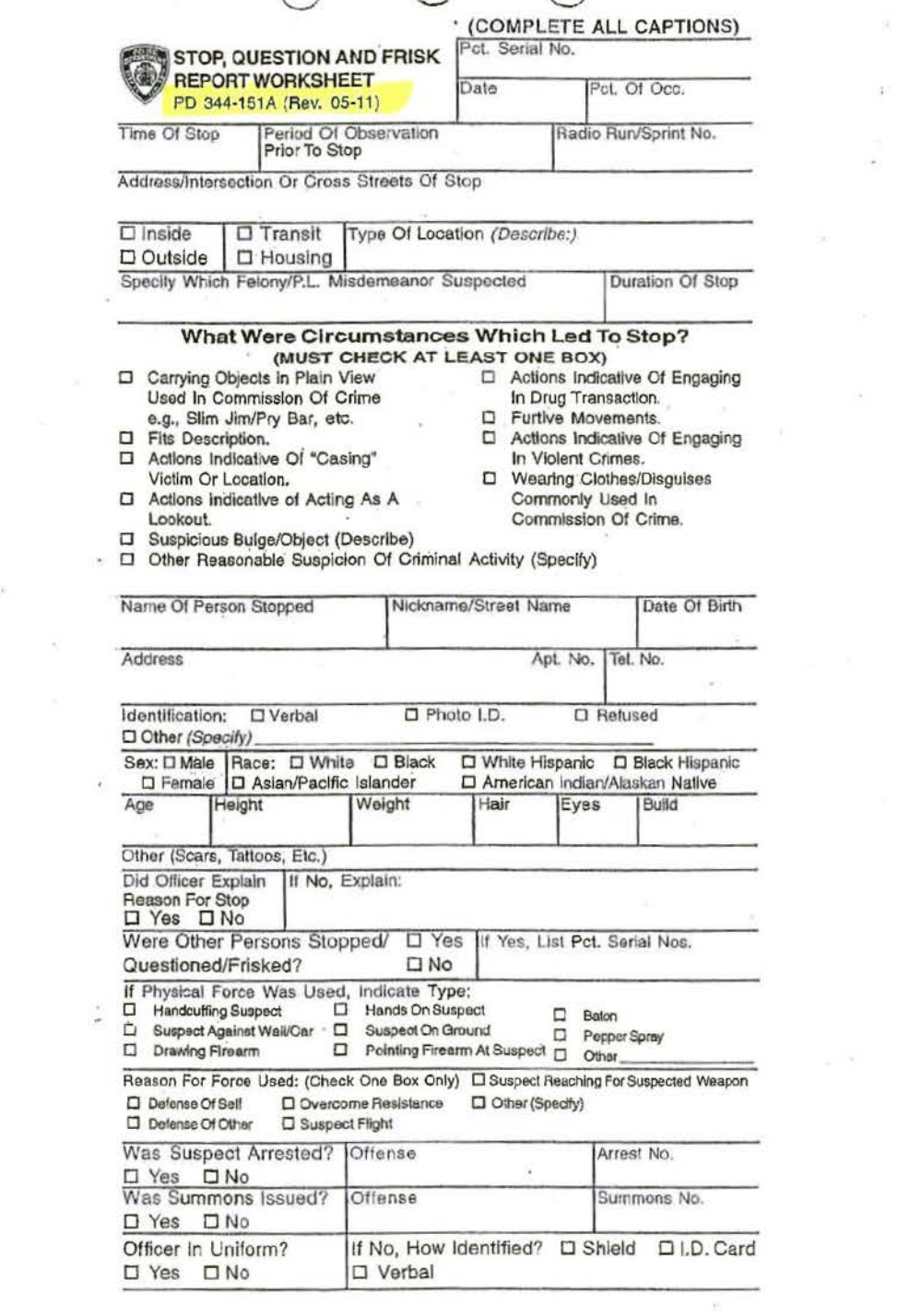 And the second side: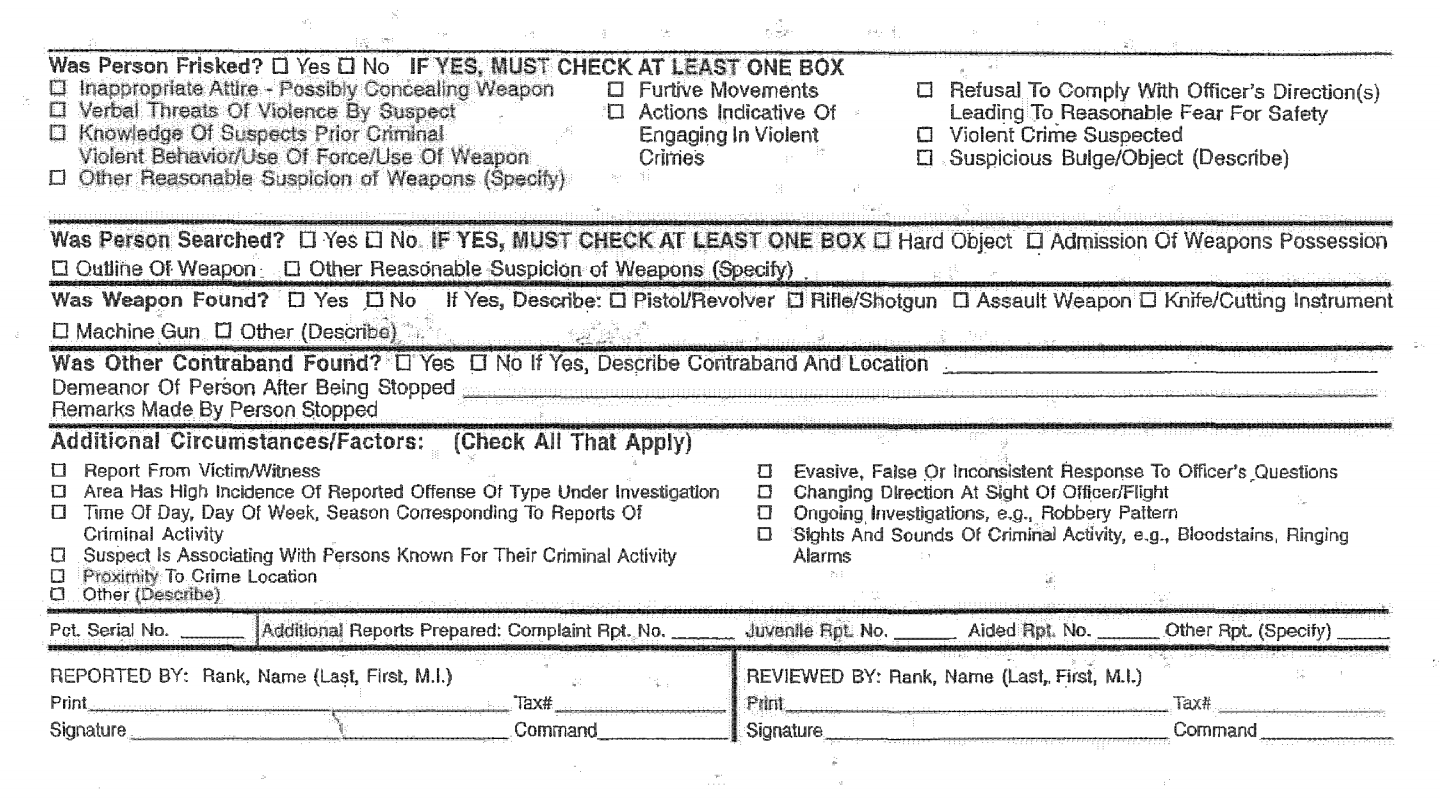 However, after a federal judge ruled in 2013 that the NYPD's stop-and-frisk practices violated the constitutional rights of New York's minorities, the NYPD agreed in 2015 to revise the form, which included requiring officers to write a detailed explanation for why they conduction a stop. Previously, they could simply check a box labeled with "Furtive Movements", which was apparently the sole and vague reason for half of the 600,000 stops conducted in 2010, and which led to the lawsuit in the first place.
Anyway, I need this new version of UF-250 for my book. But I could not find it via my Google-fu, including searches for stop frisk site:nyc.gov filetype:pdf and 344-151A filetype:pdf, so I guess it's time to contact the NYPD's Public Information office.
It's just a form, so I wouldn't think it requires the formality of a FOIL request (right?) and the boilerplate language. So I'll try a friendly email. For the first time in awhile, I'm making this kind of request as someone not currently working for a journalism organization, so here's how I worded the email, sent from my personal GMail account:
---
Hello,
My name is Dan Nguyen and I am researching law enforcement policy. I've been able to find past revisions of the UF-250 form used in Stop and Frisks, such as from 2000 [1] and 2007 [2], but I haven't found any since the 2015 Floyd v. City of New York decision [3], which required these revisions:
… THE DEPARTMENT FORM ENTITLED STOP, QUESTION AND FRISK REPORT WORKSHEET (PD 344-151A), COMMONLY REFERRED TO AS A UF 250 FORM, MUST BE REVISED TO INCLUDE A NARRATIVE SECTION WHERE AN OFFICER MUST RECORD, IN HIS OR HER OWN WORDS, THE BASIS FOR THE STOP. THE NEW FORM MUST ALSO INCLUDE A SEPARATE EXPLANATION OF WHY A FRISK WAS CONDUCTED. THE CHECKBOX SYSTEM CURRENTLY IN USE MUST BE SIMPLIFIED AND IMPROVED.
Could you direct me to where the latest revision of UF-250 exists on the NYPD's website? Or send to my email (d+++++++++@gmail.com).
Thank you, Dan Nguyen
References:
[1] https://www1.nyc.gov/assets/ccrb/downloads/pdf/policy_pdf/issue_based/20010601_sqf.pdf
[2] https://www1.nyc.gov/assets/nypd/downloads/pdf/public_information/TR534_FINALCompiled.pdf
[3] https://www1.nyc.gov/assets/ccrb/downloads/pdf/investigations_pdf/20150302_finest-message-stop-frisk-pursuant-to-floyd.pdf
---
So I sent this email before I blogged about it, which is why there this error in the text: the Floyd v. City of New York decision was in 2013; 2015 is the date of the NYPD memo asserting the new revisions. Oops.
As for why I'm blogging this: just for funsies. If I get a response, I'll update and link to the new form for the benefit of fewer researchers. And if not, I'll update and append my ongoing FOIL adventure.